I became interested in photography purely through living in Mikindani for extended periods of time. The exotic sights, sweeping vistas and vivid colours of Africa all combine to create an extremely photogenic environment and this drew me into taking pictures. Without the patience and good humour of my friends in Mikindani many of the images would not be here today and it is to them that this website is dedicated.
How I Came to be in Tanzania
The idea of travelling to Tanzania first occurred to me when I saw a poster on the wall of the sixth-form common room at my school in 1997. I was studying for my A-Levels at the time and the thought of living in sub-Saharan Africa struck me as exotic, challenging and, above all, different from anything I had done before. The poster had been placed by a small local charity called Trade Aid that had just come into existence and was recruiting students as gap-year volunteers to assist with their project in Mikindani. I had never heard of the town before and, if I am honest, I was even unable to pinpoint the exact location of the country on a map of Africa.
I made enquiries and, some months later, found myself sat in front of an imposing panel of Trade Aid representatives and teachers from my school (including the Headmaster, the Head of Sixth-Form, the Bursar and the Head of the P.E. department). This was just the kind of situation that I normally sought to avoid as far as I could help it. However, there I was and there I sat doing my best to answer their questions:
"What is the national language of Tanzania?"
"Erm, French?"
"Actually it's Swahili."
"How many countries border Tanzania?"
"Three?"
"Actually there are eight. Can you name them?"
"Yes, there's…erm…well, no actually, I can't."

"What makes you want to go to Tanzania?"
(At last, a question that had no definite answer!)
"Well, I'd like to go on a gap year and I've not been to Africa before. I think I'm a good team player and very adaptable and I think I could help their project in some way."
"Yes, but what makes you want to go there specifically?"
"I think that Trade Aid represents an opportunity to do something quite different and…well, I think I'm adaptable and could help them in some way."
Not exactly a sparkling first interview. Despite an appalling lack of preparation I was not excluded from Trade Aid's selection process; thankfully my peers had also lacked the application and composure that I had. At that stage, with one eye on looming A-Level exams, I saw a gap year as a golden opportunity for travelling somewhere for a long period of time and living in a different place far away from the cloying drudgery of academia. I imagined taking myself away to Australia, New Zealand, South Africa, California, or Thailand. I even gave consideration to applying for a place with (I can't help but cringe slightly in hindsight) Camp America.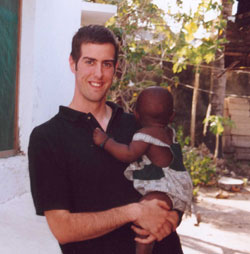 I attended several meetings with Trade Aid staff at the school and at their offices to learn more about their project. We were then sent to a local army camp where the Royal Signals Corps put us through our paces with some team-building exercises and an obstacle course. Climbing over a 12-ft wall and running through a water-filled ditch on a cold January morning I wondered what lay in store for us in Tanzania. At that stage there were twenty students interested in becoming volunteers and we were to be whittled down to a final six, two groups of three that would spend six-months each in Tanzania. I was playing basketball on the school courts one afternoon in the Spring of 1998 when the Head of Sixth Form came and told me that I should keep myself free the following summer because I had made it into the final six.
I arrived in Tanzania less than a year later with two other Trade Aid volunteers. Our long haul flight via Dubai landed at the Julius K Nyerere International Airport in Dar es Salaam and we were immediately in culture shock. As we rode into the city on the back of a Toyota pickup the assault on our senses took the form of unfamiliar sights and sounds, exotic smells and the closeness of the tropical heat and humidity. We travelled from Dar, the capital, to the Southern town of Mtwara on a boat called the MV Safari, more recently described by guidebooks to Tanzania as a 'rust-bucket' and 'death-trap'. The trip proved to be one of the worst I have ever experienced before or since; 26-hours pitching and rolling in cramped conditions during which time I would guess that 70% of passengers vomited. It was not pleasant.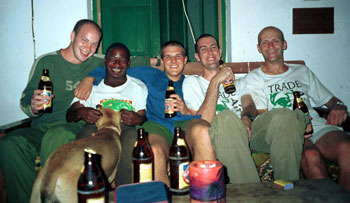 The three of us were collected from Mtwara port by the local project manager and book-keeper for Trade Aid and driven 15km to Mikindani, where we would spend the next five months. I didn't have a clear perception of what Mikindani would look like before I arrived, but as we turned off the main road and passed wattle and daub mud huts and severely dilapidated old colonial buildings I began to get a clearer idea. After Dar and Mtwara, Mikindani seemed like a lugubrious backwater with little sign of commerce or industry. It was clear that it had regressed enormously since the days when it had dominated the region and been one of the most important ports on that stretch of the Indian Ocean coastline, a busy trading point and hub of activity in all sectors. After an hour's lunch where we rehydrated and ate fresh mangoes and matopetope (custard apples) we were taken to our host families with whom we would live as part of a three week 'homestay'.
Distinctive from many other charities, Trade Aid used the homestay to acclimatise volunteers to their new surroundings, provide them with a very clear understanding of how the local population lived and to forge tentative links in the community through local families. I had been placed with the family of a local street chairman, Mr Liloko, a serious and gruff gentleman of some standing in the community who lived with his three wives and fourteen children. It didn't take me long to establish that he spoke no conversational English and, in spite of having purchased a 'Learn Swahili' guide and phrasebook, I was unable to converse with him in his own language either. It quickly transpired that the Swahili from Kenya, Uganda and Dar in my book differed from the dialect used in the South. Mr. Liloko showed me to my room (the bed was more than a foot too short for me, very rickety and unstable) and took me through the reception area in his house where he gesticulated that meals were taken. We continued our tour in the backyard where his wives and daughters cooked and I was shown the toilet, a long-drop latrine screened from view with woven raffia only five feet in height (I am six foot five).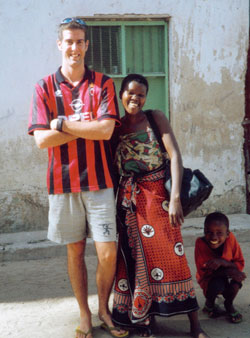 My memories of homestay mainly involve struggling to overcome the communication barrier as I fumbled with my books and uttered fragments of sentences in stuttering Swahili. Aside from mealtimes there was little structure to my days but the common themes were a lack of privacy and the slow progress of trying to learn a new language in a short space of time. Most of this time was spent in the presence of dozens of young children who liked to surround me at a distance of several feet and stare unabated and open-mouthed at the strange-looking mzungu in their midst. As with most developing countries the demographics in Tanzania are essentially bottom heavy, with young children accounting for by far the greatest proportion of the population. It was my knee-high entourage of six-to-ten year-olds who taught me the most Swahili during this time; they would get me to repeat words and phrases (which I didn't understand at the time) and, parrot-like, I learnt through mimicking the pitch, tone and nuances of their diction. At night I would lie in bed writing letters to faraway friends by torchlight amidst the scurrying of cockroaches and rats and the oppressive humidity of the monsoon wet season. I awoke early each day, roused by the call of the muezzin from the mosque a few hundred yards away, the call of Liloko's belligerent rooster and the sound of his daughters sweeping the veranda below my room.
Following my homestay I moved to Trade Aid's 'base house', where I would live for the remainder of my time in Mikindani. Upon arriving there I met Salum Mtipa (the house-keeper, first employee of Trade Aid and a living legend to dozens of volunteers) and was shown to my room on the ground floor. Each room contained just a bed fashioned from mangrove poles and lashed twine, a mosquito net and a ceiling fan that swirled lazily when the electricity was available to power it (I soon realised that this was not a regular event). At this stage I was also reunited with the other two volunteers who had similarly come to the end of their homestays with different families in different districts of the town. The three of us were already adjusting to the environment and as a group we were more intrepid and enthused, keen to start work, to explore the area and to settle into a rhythm and routine that would carry us through the months to come.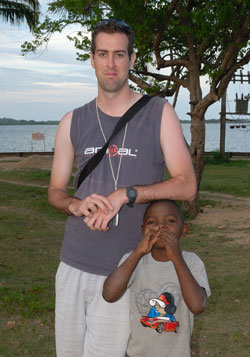 My volunteer work with Trade Aid could be broadly defined in three buckets; education, enterprise and the environment. The variety of work was stimulating and the fact that we were involved in a project that operated at the grass-roots level and were immersed in the community opened our eyes, allowed us to make new friends and gave us an invaluable life experience. In those five months we attended a number of weddings and funerals, travelled to various towns and sites of significance in the region and had experiences that spawned a hundred stories that we would write home about. Returning to the UK life seemed unchanged from when we had left, much less vivid and colourful than Africa had been. It was only a matter of time until I returned there, working for Trade Aid once more, to get back into the lifestyle, help out and continue on the personal journey that had started. This is a journey that is still on-going, I have spent more than three years cumulatively working in Mikindani, spread across more than twenty separate trips of varying lengths and it is from these times that all of my photographs originate. Dozens of new volunteers have come and gone in this time, some of whom fell in love with the place as I had done and others who have never been back. Many of the elder faces in town have passed on in the intervening years and many of the young children I used to photograph are precocious teenagers, their infant siblings now in primary school as they once were. I hope that some day in the future all of these photographs can combine to give people a view of how Mikindani used to be, in the days before things improved and its fortunes were revived.